SOCIAL MEDIA FOR LAWYERS: BUILDING YOUR PRACTICE IN THE AGE OF THE NEW MEDIA
Twitter, Facebook, Avvo, Yelp, LinkedIn… Where to begin? And is it even necessary? For lawyers looking to expand their practice, establish themselves as a reliable authority in their field, and/or build relationships with media and journalists, increasing your online visibility is a must. A professional, SEO friendly website is the foundation and engaging, ethically sound social networking sites are the springboards to a visibility that showcases your reputation and expertise and helps you build the law practice of your dreams.
Kristen Marquis, Esq. is an attorney turned social media expert. She understands the practice of law and what drives your potential client. Join us for lunch in Santa Monica, California on April 5 as we help you identify, create, and maintain the appropriate social networks for your practice.
The event flyer is below. For more information about the hour long MCLE lunch, contact Kristen or the Santa Monica Bar Association directly.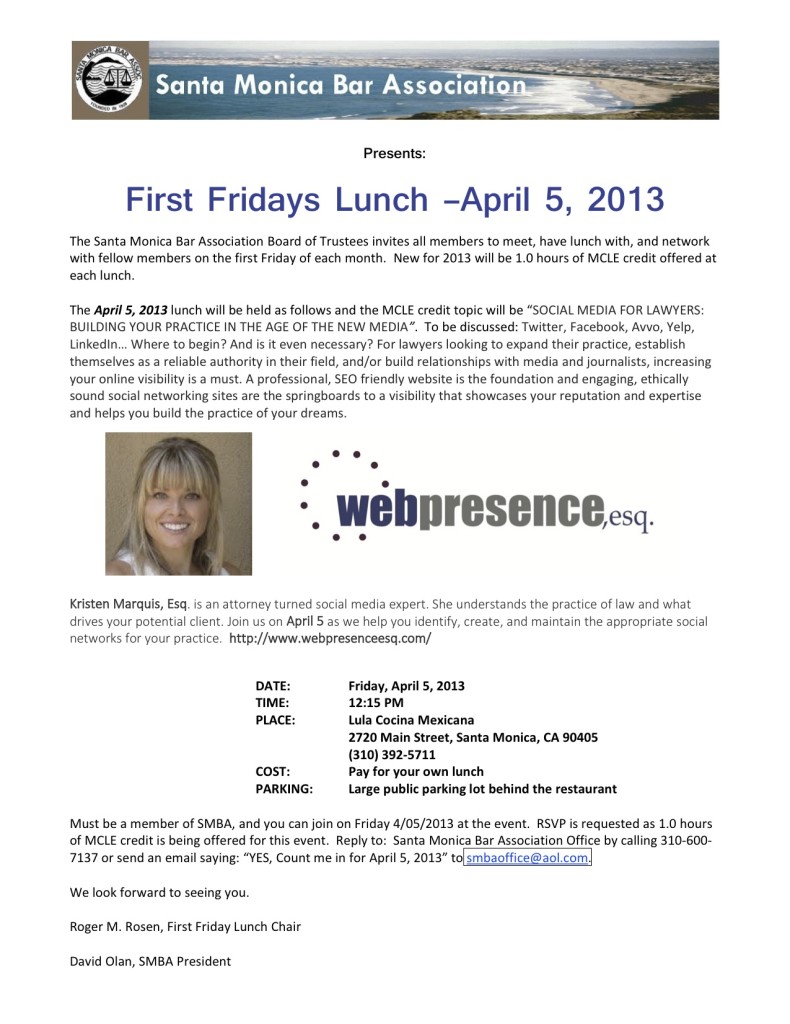 WebPresence, Esq. is a cutting-edge Web Presence Management company built by attorneys for attorneys. Our team of lawyers will create a powerful Social Media campaign for your law firm, enabling you to attract new business and increasing your firm's reputation.  Additionally, we will manage your online reputation, ensuring that your carefully-crafted name remains in good stead.  For more information about our services, contact WebPresence, Esq. at www.WebPresenceEsq.com today.