You only get one chance to make a good first impression
And thanks to the Internet, this age-old cliche could not be more appropos.  Legal blogs, professional review websites, and critics abound on the world wide web. Do you know what is being said online about you? Your firm? Your practice? Your clients, prospective clients, and potential referral sources are using the internet to research you.  It is crucial that your growing networks' initial impression of you is positive.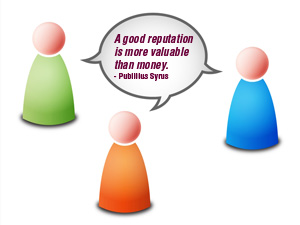 As every attorney knows, perception is reality. Whether it was your client's perception about his company's value or the jury's perception of your client's innocence, you have likely experienced a time where a client did not see the matter in the same light you did.  At WebPresence, Esq., we are acutely aware that an integral part of developing new business involves managing your online reputation.  We manage the perception you about your and your practice you want your network to see.
Online Identity Management (OIM) or Personal Reputation Management (PRM) refers to techniques that generate a distinguished Web Presence for an attorney. Your professionally-crafted reputation, which you have taken years to build, will be reflected in web content that refers to you; including news, personal web sites, social media, pictures, videos, and any participation in blogs or forums.
WebPresence, Esq., will ensure that your reputable image is showcased on online profiles, review sites, blogs, biographical content, and any other pages relating your and your practice, allowing you to take a proactive approach to your moneymaker — you. Additionally, we will immediately notify you of positive or negative publicity shared about you on the world wide web.