Need of few of those hard-to-get Legal Ethics MCLE credits? Interested in learning how to use social media to increase your web presence, grow your law practice, and become a go-to resource for media, potential clients, and other attorneys? Well have we got the perfect solution for you: an online webinar discussing social media for lawyers led by Kristen Marquis and hosted by the National Judicial Review.
Join attorney and founder of WebPresence, Esq. Kristen Marquis for a live webinar on July 24, 2014 from 12pm-1:30pm. Kristen will be discussing the basics of social media for lawyers, as well as its pros and cons from both a business development and ethical standpoint. And of course, Kristen will cover the hot topic of legal blogging!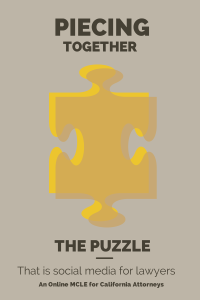 "This presentation will focus on the ethical issues lawyers must consider when engaging in social media. The content of this seminar is important for all lawyers who use social media (like Facebook, Twitter, LinkedIn and blogging) to promote their practice.  A positive but ethical online and social media presence is crucial for lawyers practicing today."
The webinar MCLE will be engaging, informative, and will fulfill 1.5 hours of the 4 hour Legal Ethics CLE requirement in California! What's more, you can listen and learn from the comfort of your office!
For more information, please contact legal marketing expert and attorney Kristen Marquis or click here to register for the MCLE.
WebPresence, Esq. is a full-service digital media marketing and PR firm that assists attorneys, legal professionals, and law firms with ethically and effectively building their on and offline presence.