How influential are you online? What does your law firm's online presence say about your practice? Are you tweeting and Facebook status updating but to no avail? Your answers to these questions are crucial when determining the effectiveness of your Social Media Marketing campaign and whether or not your efforts, or those of your legal marketing team, are bringing you the results you desire.
Whether you are using Social Media to establish your credibility in a certain area, become a household name, bring in new business, or all of the above, use these tips for upping your Social Media swagger:
1. Focus. Just like you have (probably) narrowed your practice areas to a few key niches, do not over-extend yourself on Social Media. There are ton of social networking sites for lawyers out there, and more popping up every day. Instead of trying to get a teeny piece of all of them, focus on a few select networking sites based, in large part, on your target demographic. Your content quality will be higher, meaning more potential clients will want to read it, and you'll end up with a more targeted follower base.
2. Be Original. Original content gets share more often than something that's been around a while. So whether it's photos from your law firm's recent charity-raising efforts, or an interesting break down of an important decision in your area of the law, wrap it up in a nice package and share it. As a side note, Google hates duplicative content and rewards those who provide unique, accurate legal content with higher search rankings; something consider before 'stealing' another lawyer's interesting blog post.
3. Find a Balance. As we've shared in previous posts, balance is key. This means post / share regularly enough so that you remain on your potential clients' radars, but not too often that they feel harassed. The appropriate amount of sharing is different for every social network, so make sure that you or your legal marketing team are being sensitive to Social Media etiquette.
4. ReTweet! Yes, share that important recall notice that your colleague just tweeted about! Social Media for lawyers is about being social and it is crucial that you engage with both your target demographic and potential referral sources (aka other lawyers). ReTweet articles from your followers, comment on other firm's wall posts, and respond to comments and/or feedback left by your ever-growing 'fan' base.
5. Pictures! Your mom always told you pictures were worth a thousand words, and she wasn't lying. Add videos and pictures to your posts and Social Networks to catch more attention from your market base. Not only can photos and videos be more interesting than words, but in this fast-paced digital world that we now live in, people demand instant gratification. Of course, this does not mean you can't add a few paragraphs about something newsworthy or relevant to your practice, but be sure to present it in such a way that your potential clients, journalists, and followers HAVE to notice.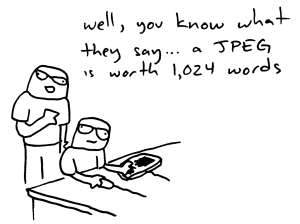 A successful Social Media campaign for lawyers requires a thorough understanding of both social networking and the legal profession. The attorneys and social media experts at WebPresence, Esq. can assist you in creating and executing an effective Social Media presence designed to fit your specific goals and needs.
—
WebPresence, Esq. is a cutting-edge Web Presence Management company built by attorneys for attorneys. Our team of lawyers will create a powerful Social Media campaign for your law firm, enabling you to attract new business and increasing your firm's reputation.  Additionally, we will manage your online reputation, ensuring that your carefully-crafted name remains in good stead.  For more information about our services, contact WebPresence, Esq. at www.WebPresenceEsq.com today.