Are you one of the many lawyer starting to see the benefit of building a strong web presence? Or have you watched your competitors and colleagues pull ahead of the pack by masterfully crafting the art of social networking?  It's not easy to build an effective online presence, but it can be done. However, before you get any crazy ideas, just filling out a law firm page on Facebook or starting a Twitter account is not enough. If you are really interested in exploding your practice through the power of social media marketing for attorneys, you need to avoid making these common mistakes:
You aren't using images or videos.  These days, we are bombarded with information at every turn. If you are not setting yourself apart, and making it easy for people to be interested in you and/or your content, you will go unnoticed — ouch! Adding relevant images and videos can make your law firm's social media presence more interesting to your potential clients.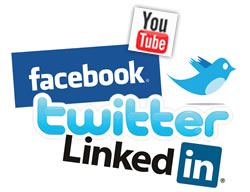 Typos galore!  We know you are busy practicing law, but take a few minutes to proofread. If your posts, blog, or Social Networking profiles are full of typos and poor grammar, you will turn your target audience off.  Your followers and readers are looking to you for your expertise and professionalism, do not let your Social Media accounts detract from that image! It might be a few minutes of extra work, but it is worth it in terms of developing new business.
Inactive Social Media accounts. Just like any relationship, Social Networking for lawyers requires a consistent effort. If you've made a profile for your law firm but never blog or Tweet or update, then you are not going to attract any new followers or readers or — wait for it — new business. However, there is a fine line between spamming your network and providing relevant, interesting information. Make sure you walk it carefully (or hire an experienced law firm social media marketing company to do so for you!).
You go radio silent.  If followers comment on your law firm's Facebook or Twitter or Google+ posts or ask questions, use this as an opportunity to snatch up new business! Respond promptly with a thoughtful, personalized response. One of the incredible values of Social Media for lawyers is the ability to reach out to your potential clients directly. Therefore, if you're not going to monitor your accounts, you're probably better off not engaging in Social Media for business development at all.
Spamming. At the other end of radio silence is spamming, as we touched on above. Each Social Media account has different 'rules' relating to how often and what type of information you should post. Recycling information is fine, just be thoughtful about it. Don't alienate potential clients with a constant stream of spammy, irrelevant, or annoying posts.
You're not approachable. Although you are being hired for your professionalism and expertise, you can still come across as friendly. People tend to be attracted to those they can relate to on some level. So whether you like to read, surf, watch documentaries, or sew, share that part of you on your Social Media accounts! However, it's crucial to strike the right balance between professional and casual.
Overwhelmed? We know that practicing law and maintaining an active, effective presence on Social Media for business development can feel like two full-time jobs. And honestly, it is. Social Media for lawyers is different than for other professionals: you have ethical rules to consider. As attorneys-turned-social media professionals, we understand the need for creating and ethically-sound Web Presence that does not put your license at risk. Contact us today to learn more.
If you are interested in building your online presence through the use of a strategic, professional Social Media campaign for lawyers, the attorneys turned Social Media marketing professionals at WebPresence, Esq. can help.
–
WebPresence, Esq. is a cutting-edge Web Presence Management company built by attorneys for attorneys. Our team of lawyers will create a powerful Social Media campaign for your law firm, enabling you to attract new business and increasing your firm's reputation.  Additionally, we will manage your online reputation, ensuring that your carefully-crafted name remains in good stead.  For more information about our services, contact WebPresence, Esq. at www.WebPresenceEsq.com today.