Is your law firm's website bringing you new clients? If you cannot answer with a resounding "YES!" it's time to mix things up. Your web marketing team should be working closely with you to ensure that:
You are directing quality traffic to your site
Your website engagement is always on the rise
You are turning visitors into clients
Google's various algorithm updates have not dropped you from your place on search engine rankings
Quality Content Over Quantity

Just like with content creation for your legal blog and website, you are looking for quality over quantity. Your law firm website's visitors must be targeted and quality; i.e. car accident victims visiting a personal injury firm's website, Silicon Beach start ups visiting a business lawyer, etc… If your website is bringing in hundreds (or thousands) of visitors each day, but they are not interested in the legal services you are providing, then your website isn't really doing its job.
Content
What does your website's content say about your law firm and its practice areas? Your legal content should be accurate, detailed, and SEO-friendly (and that's just to start!). Unfortunately, all of the SEO and PPC (pay-per-click) in the world won't help you if your law firm website has a content problem. Just ask Google: Content marketing is the most effective method of web-based attorney marketing.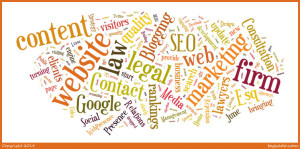 Content Updating
Creating your law firm's website, including its content, is just the start. In order to achieve high search engine rankings, you must update your website on a consistent basis. Many law firms fail to update their websites regularly with quality material that turns visitors into clients. Pulling snippets from other law firm websites or scraping content is wildly disfavored by Google but yet many lawyers are shocked when Google demotes their website from page one to page 20 in search results for engaging in these black hat SEO techniques.
Content Review
If you have noticed that your law firm's website has dropped in search engine rankings or you believe that your website is not bringing you the type of new business (new clients, referrals, business opportunities, etc…) it should, contact the attorneys turned digital media experts at WebPresence, Esq. for a free website content consultation. We will review your law firm's website and let you know its content strengths and weaknesses and provide invaluable tips on how to improve your website's ROI.
For more information on content writing for lawyers, or to discuss your law firm's web marketing campaign, contact the legal marketing team at WebPresence, Esq. today.