Pay Per Click marketing. What IS this magical potion for getting to Page 1 of a Google or other search engine search?
Essentially, it's pay-to-play. If you spend enough money, your law firm's website will end up on the first page of a Google search, with the designation of "Ad" next to your name. See this screenshot: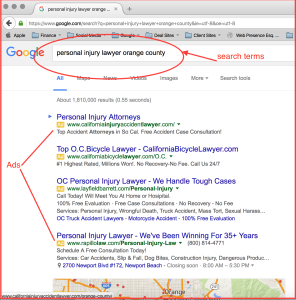 Certain marketing companies encourage law firms and legal services businesses to spend thousands of dollars (and more!) each month on pay per click (PPC) and while, if done correctly, PPC is one way to reach your target audience, it must be done in conjunction with a strategic and quality organic marketing campaign. To do otherwise is to spend a ton of money with no long-term lead generation potential. Give us a call or shoot us an email for our case studies on why this is always the case.
Don't get us wrong — We are not anti-pay per click. We are pro organic + paid. At WebPresence, Esq., we run our clients' PPC campaigns in conjunction with a customized, organic online marketing campaign designed specifically for the needs of their firm. This ensures the long-term, consistent results our clients value.
Setting a PPC budget
If you are considering PPC, it is important to set a realistic budget. Not surprisingly, certain keywords are more expensive than others. For example, for $550+ per click, a Los Angeles motorcycle lawyer can pay for page 1 advertising on Google. Yes, that is per click. Not per lead. PPC campaigns require money, an in-depth understanding of how the paid advertising machine works, and creativity. If you're not interested in paying $500 per click, let's think of other keyword options for directing your target audience to your website. There is always a workable solution.
For more information on PPC and whether it is the right fit for your firm, your budget, and your business development objectives, contact our experienced legal marketing team today. And for fun, check out this infograph, which shows the most expensive key words in America.

Thanks to SEMRUSH for the infograph.