It's November, which means the Holidays are just around the corner… Do you have your holiday marketing strategy in place?
With a 90+% open rate (aka lots of eyeballs on your marketing piece, thinking about you), we suggest a professionally designed holiday card. A card that the recipient can easily associate with you and one that will stand out among the crowd. If you're passing out Thank You gifts (i.e. to referral sources), it can also be attached to the package. Holidays cards are simply the perfect way to strengthen your brand this holiday season.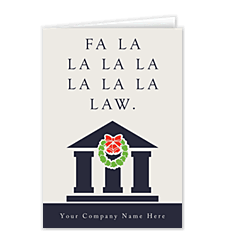 Everyone likes to be remembered (including you!). Whether by snail mail or email, a firm-branded holiday card is an opportunity to get in front of your clients and prospective clients, colleagues, and referral sources; remind them of your presence; and share in the spirit of the season.
Don't be the ONE attorney / law firm / legal services business that gets left back in 2015.
Head into 2016 on top of your contacts' minds.
To discuss creating a custom-designed marketing piece or email newsletter for your law firm or legal services business, contact our legal marketing team today.